There has been so far one creator-endorsed musical album inspired by The Property of Hate, and a second one currently in-process.
The Property of Hate: Vol 1
Edit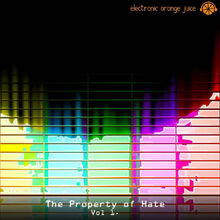 Composed by online artist "Electronic Orange Juice" and given Modmad's blessing[1] and cover art, this was the first original "soundtrack" to the comic. Originally starting as single tracks posted on tumblr, the whole thing was released as a Bandcamp album on December 1st, 2015. Purchase of the album includes an un-watermarked cover, and two exclusive pieces of bonus art drawn by Mod. It is 9 tracks and about 25 minutes long.
It is available for sale here.
The Property of Hate: Vol 2
Edit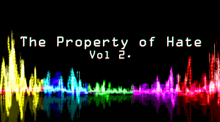 Inspired by the first album and the success of Homestuck's "Beforus Album" project, tumblr user anxious-traveler and Mod began work to collaborate on a second TPoH-based release based on multiple aspects of the comic. It is intended to be a collaborative project, incorporating music, art, and lyrics submitted by multiple fans. It is currently accepting/requesting more contributors.
The main page can be found here.
References
Edit