The Property of Hate is an independent fantasy/adventure webcomic that began in February 2012. Created, written and illustrated by Sarah Jolley, it follows the story of a television-headed monster named RGB and a young girl known only as Hero.
Synopsis
Edit
Chapter 1: "The Hook" Edit
The story starts in Manchester, UK,[1] where a child wakes up in the middle of the night to find a television-headed man crouching on her chest of drawers. The man, RGB, invites her to be a hero and she agrees.
Together they climb to the rooftops of the building and ascend a staircase of smoke, which takes them to a land in the clouds filled with doorways. RGB formally introduces himself and produces a key to one of the doors, allowing Hero through into the world of the comic.
Immediately, Hero nearly collapses of exhaustion, and remarks that she shouldn't be so tired as it it only morning. RGB explains that it is nighttime in this world, and beckons her to follow him until they reach The Pool of Tears, where they rest for the night.
Hero awakens to find a butterfly perched on a nearby plant. It asks her whether or not she trusts RGB, to which she shakes her head. It also asks her to be wise, before flying away.
Hero approaches the sleeping RGB and reaches out towards his screen.
Chapter 2: "Rushes" Edit
Print edition
Edit
Volume 1
Edit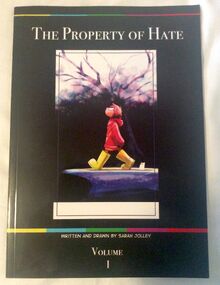 The first six chapter of the comic have been compiled into a print volume, formerly sold in small batches (often signed) on Mod's Etsy page, JolleyGoods until being sold out in early August.[2] There have been two printings of this volume, the second of which corrects a number of small mistakes (typos, Dial's gloves), and there will not be a third until after Volume 2 is published, or if the Volume 2 Kickstarter reaches a certain stretch goal.[3][4] The cover and back of both feature the Tarot card designs for Hero and RGB, respectively.
Volume 2
Edit
Volume 2 will be comprised of chapters 7-12 of the comic, for which Mod originally planned to have a Kickstarter for in June/July of 2016[5], but due to difficulties with the publishing company had been postponed until recently.[6] After dropping many hints for the upcoming campaign,[7][8][5], the 30-day Kickstarter began on October 10th 2017.[9] While two new "tarot card" designs were created such as were featured on the first book, the cover style has been re-designed for this second volume. Should the stretch goal of a reprint for Volume 1 be reached, it will be re-released with a matching style.[4]
References
Edit
Ad blocker interference detected!
Wikia is a free-to-use site that makes money from advertising. We have a modified experience for viewers using ad blockers

Wikia is not accessible if you've made further modifications. Remove the custom ad blocker rule(s) and the page will load as expected.