The Property of Hate is an independent fantasy/adventure webcomic that began in February 2012. Created, written and illustrated by Sarah Jolley, it follows the story of a television-headed monster named RGB and a young girl known only as Hero.
Synopsis
Edit
For a chapter-by-chapter synopses, see the Chapter category
A full-comic overview synopsis is to-be-written. Help out, if you'd like to write it!
Print edition
Edit
Volume 1
Edit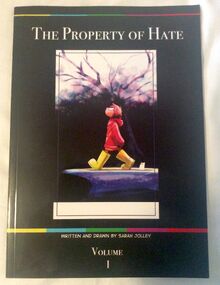 The first six chapter of the comic have been compiled into a print volume, formerly sold in small batches (often signed) on Mod's Etsy page, JolleyGoods until being sold out in early August.[1] There have been two printings of this volume, the second of which corrects a number of small mistakes (typos, Dial's gloves), and there will not be a third until after Volume 2 is published, or if the Volume 2 Kickstarter reaches a certain stretch goal.[2][3] The cover and back of both feature the Tarot card designs for Hero and RGB, respectively.
Volume 2
Edit
Volume 2 will be comprised of chapters 7-12 of the comic, for which Mod originally planned to have a Kickstarter for in June/July of 2016[4], but due to difficulties with the publishing company had been postponed nearly a year.[5] After dropping many hints for the upcoming campaign,[6][7][4], the 30-day Kickstarter began on October 10th 2017.[8] While two new "tarot card" designs were created such as were featured on the first book, the cover style has been re-designed for this second volume. At some point, the first volume will be re-printed with a matching style.[3] The project hit its' funding goal on November 6th,[9] and ended November 8th with 34,224$ raised and 897 backers.[10]
References
Edit