Welcome to the The Property of Hate Wiki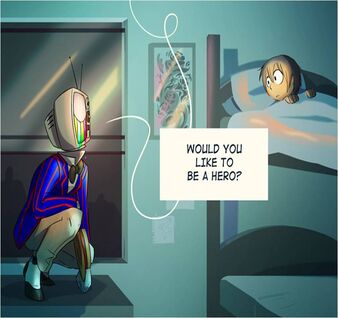 This wiki is dedicated to compiling information on the webcomic by Modmad known as The Property of Hate.
PLEASE NOTE: THIS WIKI IS STILL IN CONSTRUCTION. PLEASE BE PATIENT WHILE PAGES ARE ADDED AND UPDATED. That said, if you have any information you can add to these pages, please, do! See the "To Do List" linked below. This wiki also contains numerous spoilers for those of you who have not yet read the comic. It is advised, due to the nature of the comic, for you do so via one of the archives below before progressing any further.
Within the Wiki
Edit
External
Edit
What is all this about?
Edit
The Property of Hate tells the story of a young girl who is whisked away to a fantasy world by the strange, television-headed monster, RGB. They travel together through a strange unknown world, supposedly trying to repair the damage done to it and prevent its impending doom. They encounter strange monsters that seem like emotions (such as fears, lies, doubts, griefs etc.). They also encounter friends, such as Madras, Dial, and Assok. With a beautiful storyline and adoring characters that make you sit on the edge of your seat waiting for next Sunday (the usual time of new comics) and smiling all the time, unless if something exciting happens (which happens all of the time), leaves you staring at your computer screen for minutes until you realize that The Property of Hate is right for you. 
References
Edit
Ad blocker interference detected!
Wikia is a free-to-use site that makes money from advertising. We have a modified experience for viewers using ad blockers

Wikia is not accessible if you've made further modifications. Remove the custom ad blocker rule(s) and the page will load as expected.